The concept of condominium hotels is not yet widely understood by first-time property investors from the Philippines and abroad. Little do they know that it serves as a great opportunity for investors and wanna-be investors alike, catering to real-estate novices looking for a less-risky investment as it promises a guaranteed return-on-investment to unit owners.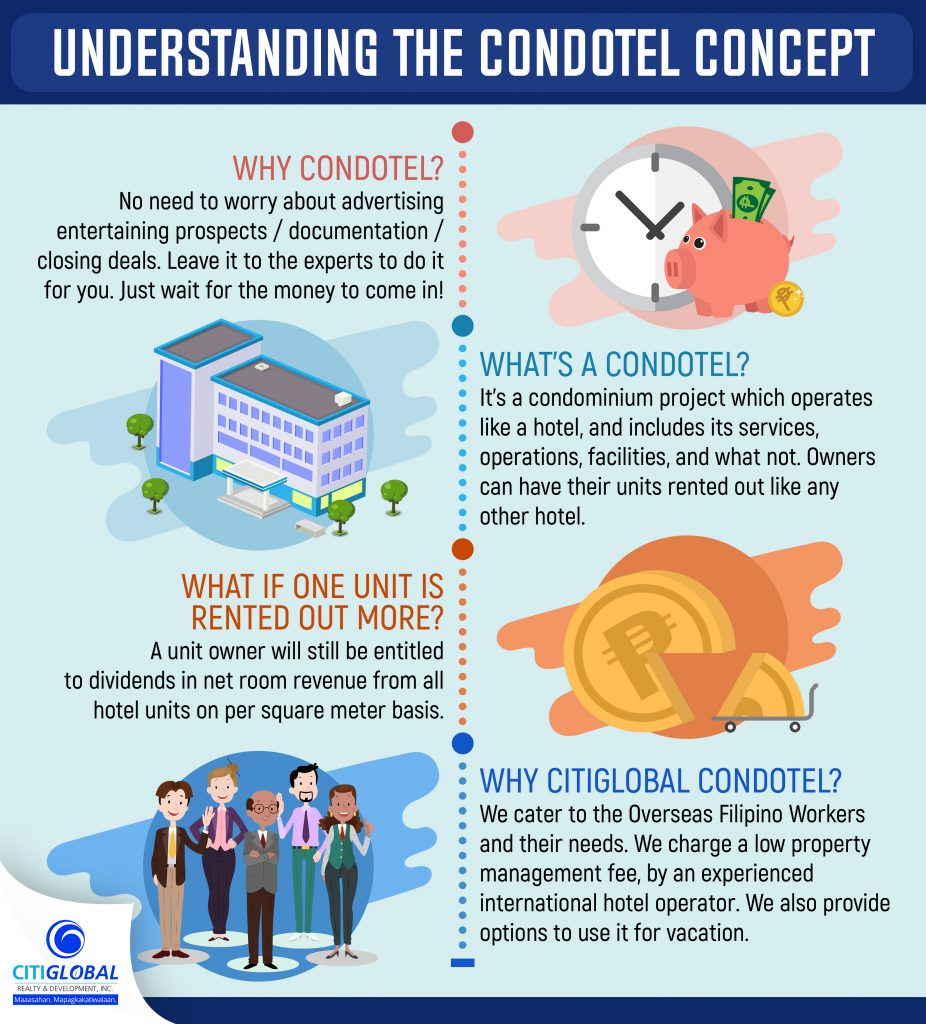 Clients purchase a unit in the same way a condominium is bought (this is not a timeshare, in that you own the unit and have the rights to it).
It will operate like a hotel, mimicking its operations, management, and the quality of its facilities. A well-experienced, world-class hotel operator will run it, which is usually a third-party organization independent from the developer of the property. Unit-owners earn by a receiving a 'share' of the total profit of the hotel operations.
Initial agreement between the two parties:
WHY CONDO-HOTELS?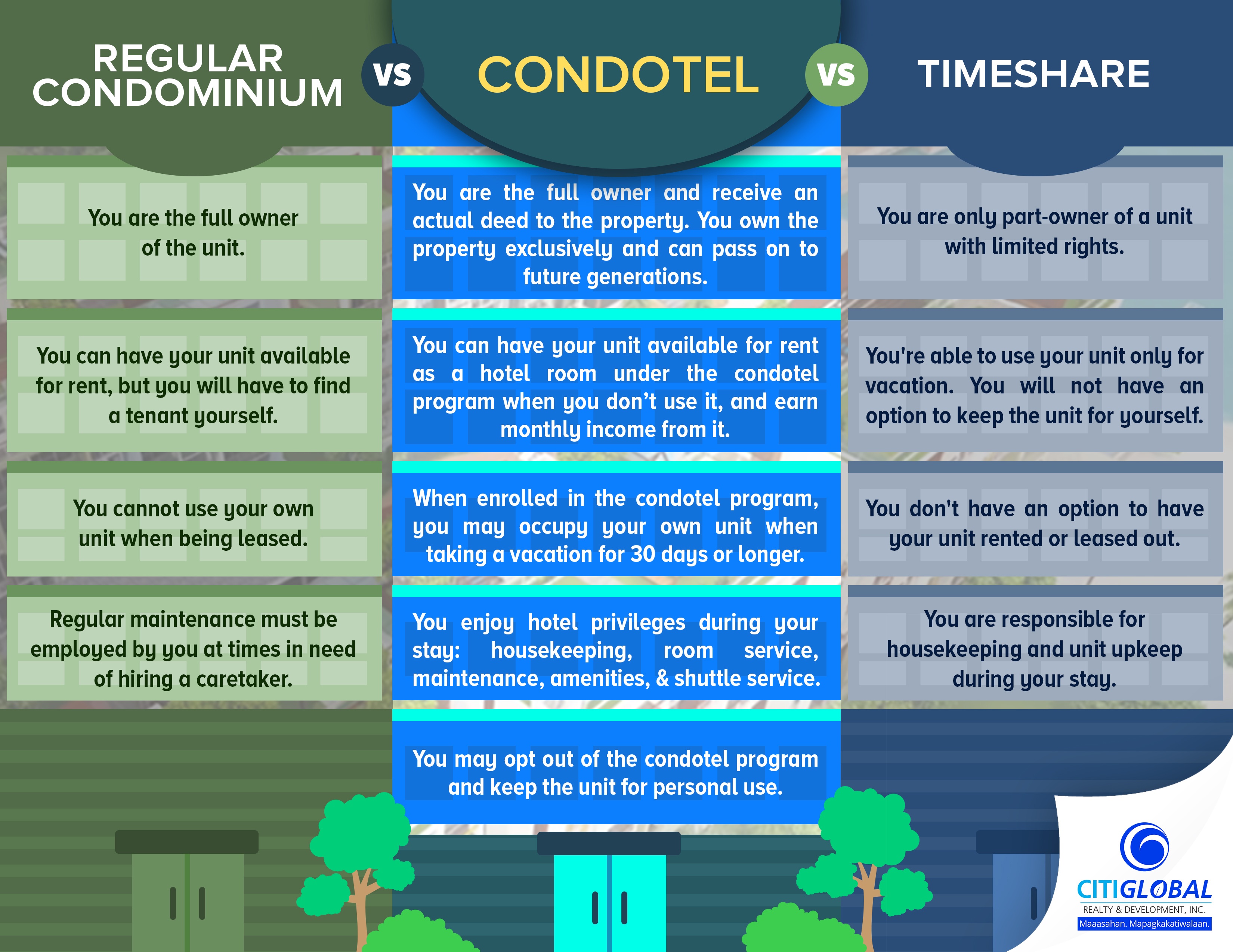 There is lesser risk in real estate compared to putting your money in the volatile stock market. Investing in such also provides more profit than leaving one's money in the bank or other 'safe' paper investments such as bonds and mutual funds.
The unit owner is not only entitled to profit, but also owns a certain share of the value of property, in the case of liquidation of the asset / wanting to passing it on to future generations. He / she also enjoys free hotel stays throughout the year.
All parts of the operations—from managing to advertising will be taken cared of by the hotel operator, hence the unit owner has nothing to worry about but to sit and wait for the returns to come in. He / she is, however, entitled to financial and operational reports prepared by the hotel operator.
HOW WILL I EARN?
The unit owner is entitled to a share of net room revenue on a per square meter basis. Thus, there is still profit received even though no one has occupied his / her specific unit. The income will be distributed as dividends, to be paid out monthly / quarterly—in cash / check / deposit, depending on what has been agreed upon.
For example: Tagaytay Clifton Resort Suites earns an average of P1,000,000 / month and has a total of 1,000SQM floor area. Juan dela Cruz owns 25SQM. How much will he earn?
P1,000,000 / 1,000SQM = P1,000 / SQM

P1,000 x 25SQM = P25,000 is how much Juan dela Cruz earns / month on average
Please see a sample computation of net earnings below, for a 25SQM unit.
[caption id="attachment_1056" align="aligncenter" width="671"]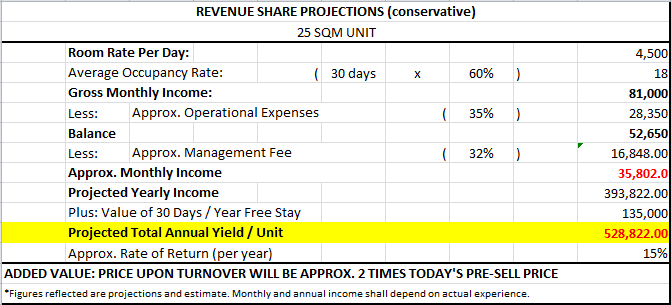 above is a computation of possible net monthly income for an 25SQM unit[/caption]
Operational expenses. This includes expenditure on maintenance, direct costs on utilities, insurance coverage, marketing, labor, and advertising expenses, etc.
Management expenses. This includes the hotel management fee (more or less 30%). A hotel operator merely earns through a share of rental income, and is a good way to make sure there is much effort in renting out the units. This is NET OF OPERATIONAL EXPENSES.
WHAT IS THE ADVANTAGE OF HAVING
A CONDOTEL UNIT IN TAGAYTAY?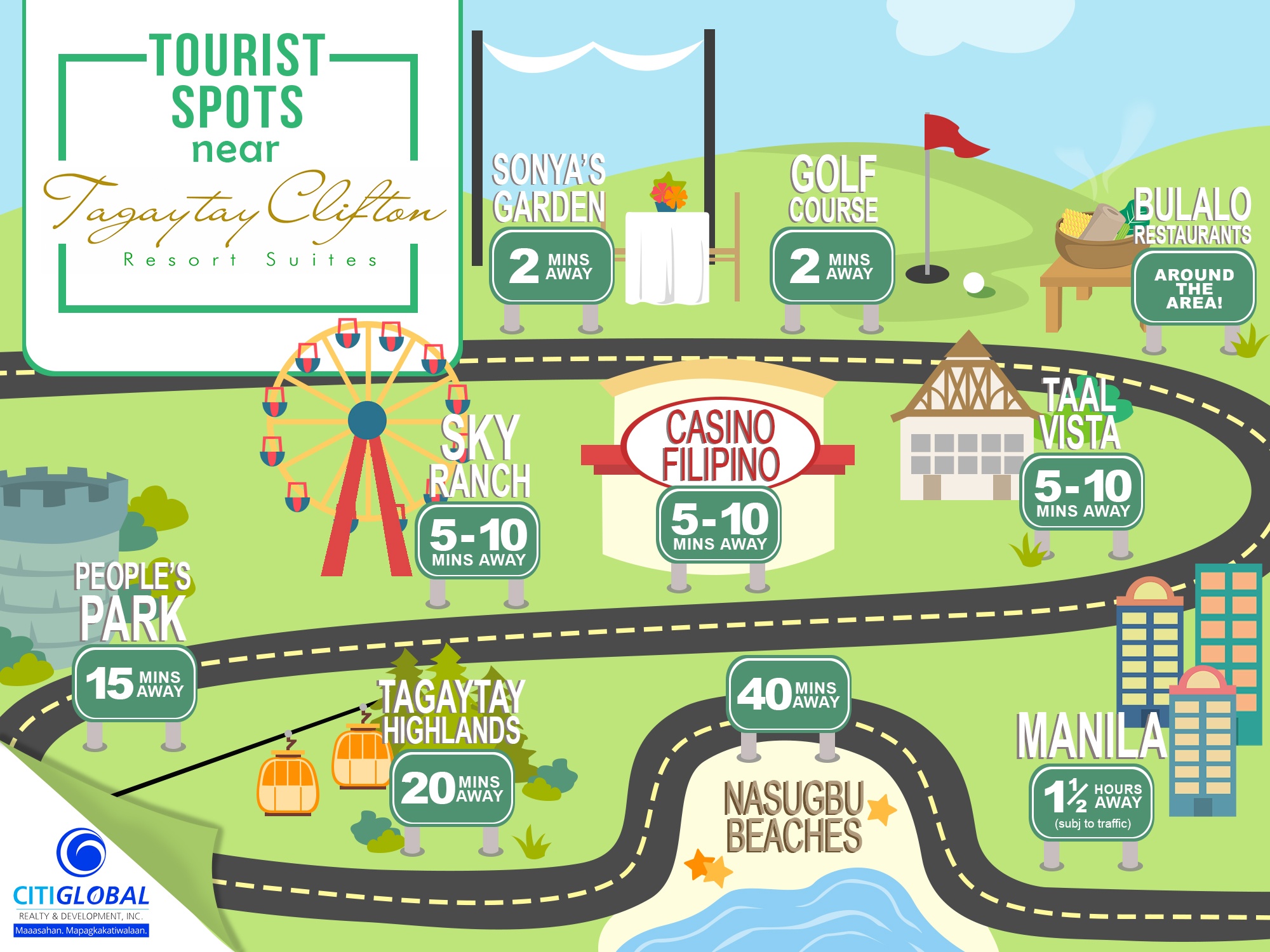 Take a trip to Tagaytay with CitiGlobal!

Our site is only one bus ride away, which makes it much easier to commute to. It is located near schools, establishments (with a commercial establishment 1 minute away and a future mall across it), golf courses, etc. It is very close to most tourist spots in Tagaytay, as well as nearby cities in Cavite and Batangas.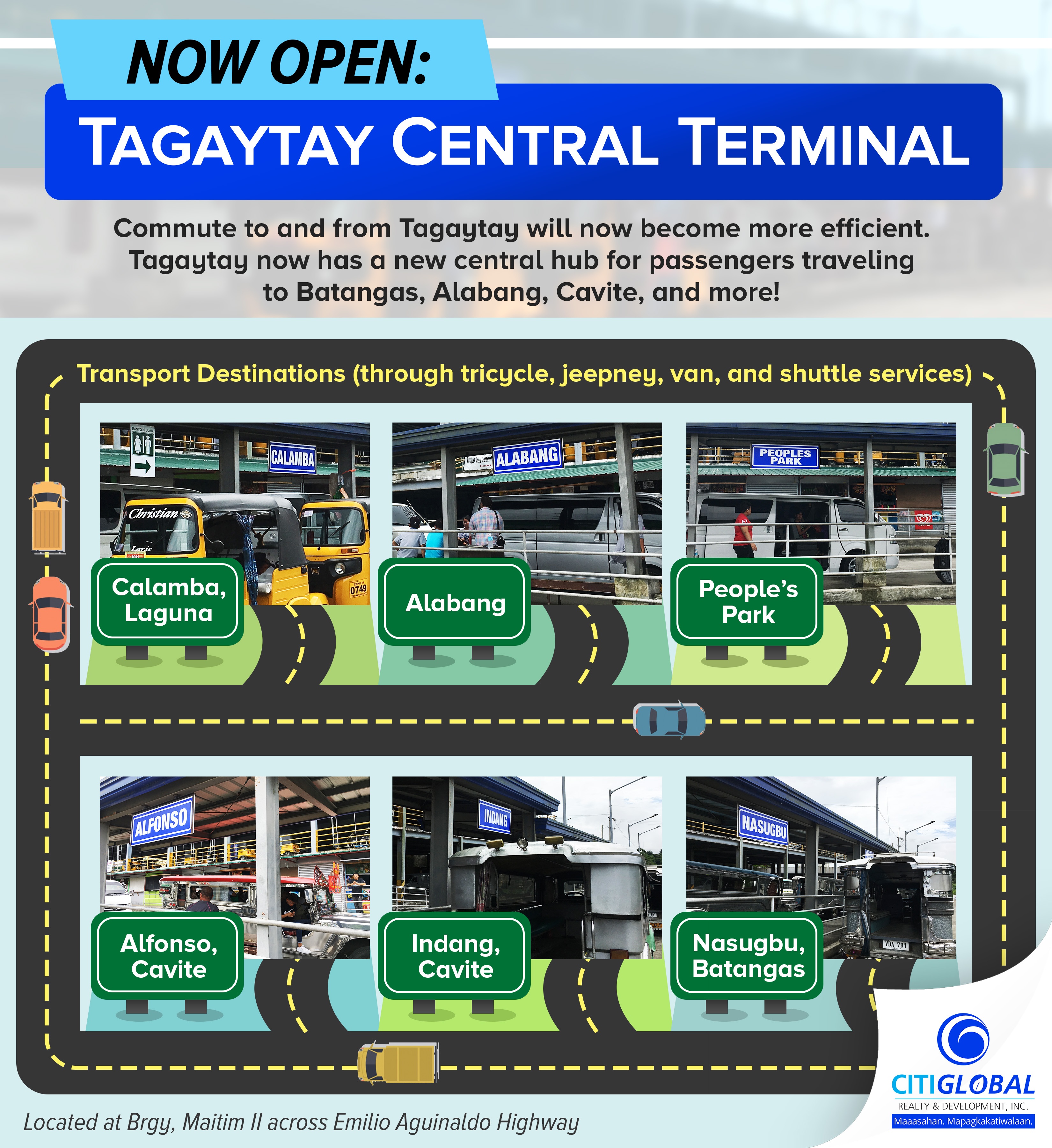 Contrary to popular belief that commuting at provinces is harder given the resources, Tagaytay has just stepped up their game by introducing a new central terminal perfect for people who want to be transferred to the best spots in the city. The Tagaytay Central Terminal can easily transfer you to our location, as well as schools, establishments, golf courses, etc.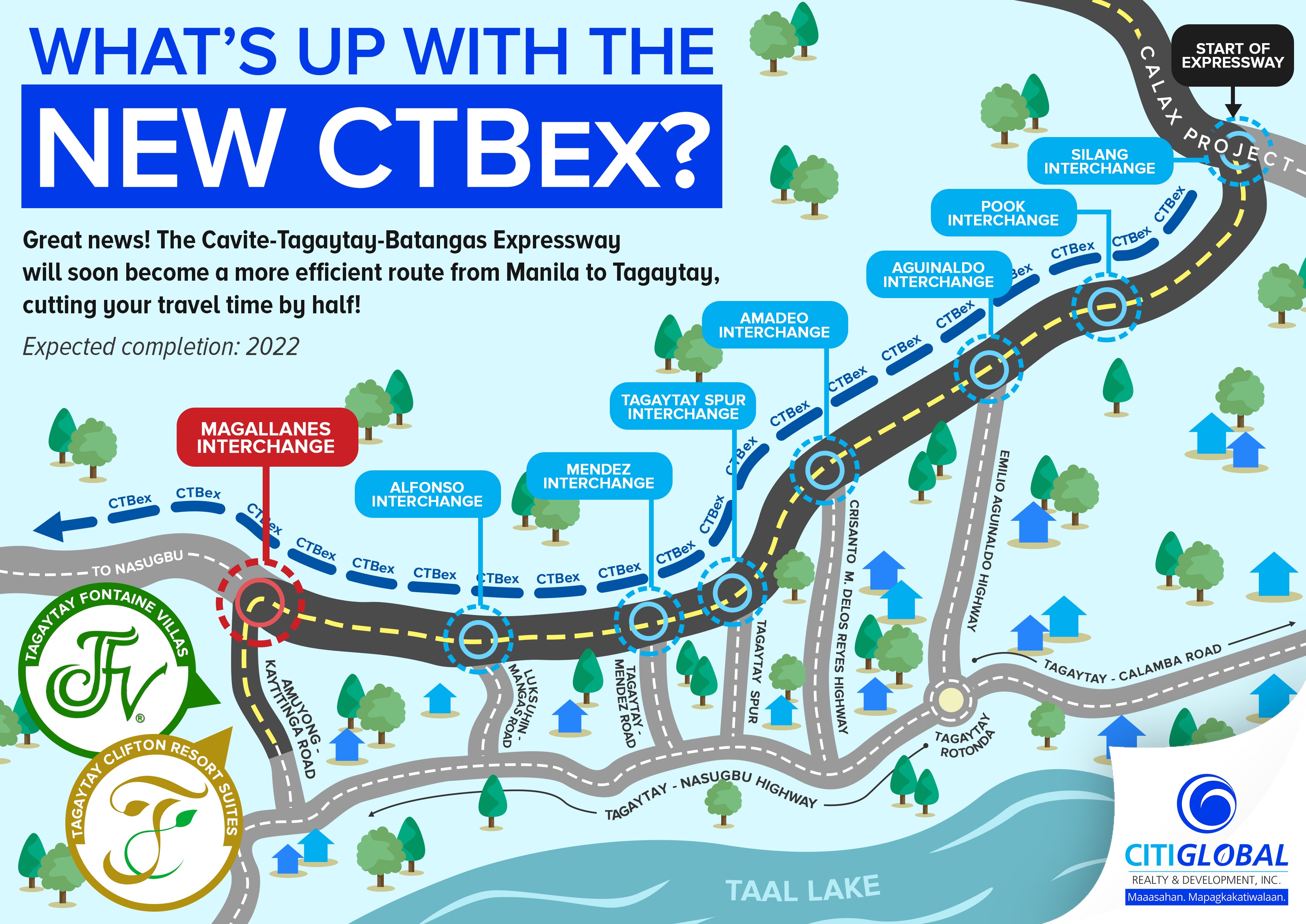 The place is also known to become a flourishing metropolis, with investment opportunities here and there as more tourists flock to the place and alternative routes are being built, such as the CTBex (Cavite - Tagaytay - Batangas Extension), which happens to be a few meters away from our site). Despite that, the site is still located in a more quiet, residential atmosphere with sights of the Batangas landscape.
A designer outlet at Silang, Cavite (near Tagaytay) is also set to rise. The Acienda Designer Outlet will give an opportunity for South residents to buy top-of-the-line designer bags, clothes, shoes, and more on a more affordable rate. This P2.5-B shopping hub is the first in its area, so no need to travel to Manila to get your hands on the best products.
Based on statistics, from the 1.7 million visitors in Tagaytay last 2014, 2017 is expecting 3.5 million tourists (up by 1.8 million in 3 years' time), signifying a continuous increase in tourism in the area. As more developments arise, foot traffic increases, and so does return on investment.

Known as second to Baguio, Tagaytay will serve up the best climate the whole-year round, making it a great place for rest and relaxation!

Because YOU CAN ENJOY...
WHAT IS THE ASSURANCE THAT MY UNIT
WILL BE RENTED OUT FOR SURE?
The condotel operations provide a lucrative income stream.
First reason being there will be plenty of future establishments surrounding the area, such as the future mall across it and the future CTBex (Cavite - Tagaytay - Batangas Expressway) which provides an alternative route to the site itself.
Another factor is that the hotel management will be in charge of the operations. They'll have a marketing and advertising initiatives which includes partnerships with booking sites, coupon deals and other promos that'll keep people coming in, even during lean season.
Aside from this, management will not earn if they do not rent out your units because of the commission basis (see the computation above). There will also be a guaranteed rate to be agreed upon in the contract of the hotel management before they take charge.  
This is a property primarily constructed for business purposes and was set from the beginning to operate as a hotel. (Though having it used as a residential unit is also possible.)
WHY IS NOW THE BEST TIME TO INVEST?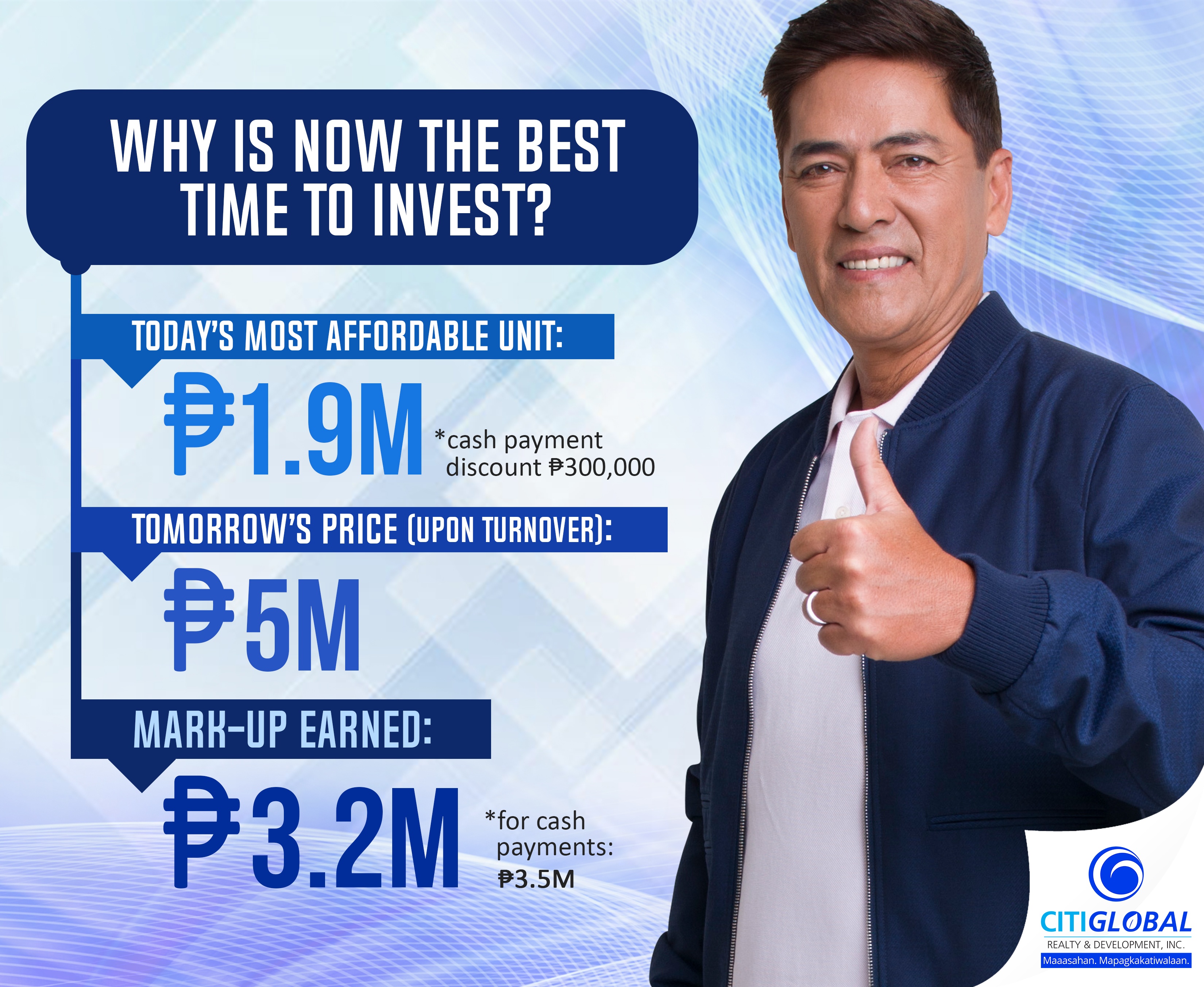 Take advantage of the pre-selling rates and payment schemes (no down payment, long-term installment). Enjoy a 200-300% increase in unit value upon full construction, should you decide to put up your unit for sale any time after turnover.
Tagaytay is already a growing city, but there is still much it will appreciate to. Grab the opportunity now while it is still in your hands!
 FREQUENTLY ASKED QUESTIONS
Will the condominium dissolve in 50 years?
No, only the condominium corporation / homeowners' association will be RENEWED every 50 years, not the structure itself. It will be up to the members of the corporation (the unit owners) to decide whether or not to maintain the building, to build a new building, or to sell the unit (and liquidate the proceeds) in the long run.
How will we inform the hotel operator of our interest in staying in our unit?
There will be a system and conditions for informing the hotel operator in advance, which will be finalized and discussed to the unit owners before turnover.
Are relatives also entitled to a free stay and use of the unit?
Yes, this is possible.
As a unit owner, can I decide to pull out of the condotel operations?
Yes, your unit may be used as a residential property and not occupied for rental operations. You may pull out, then enroll again, as well.
How do I avail of a unit?
Purchase is the same way a regular condo unit is bought: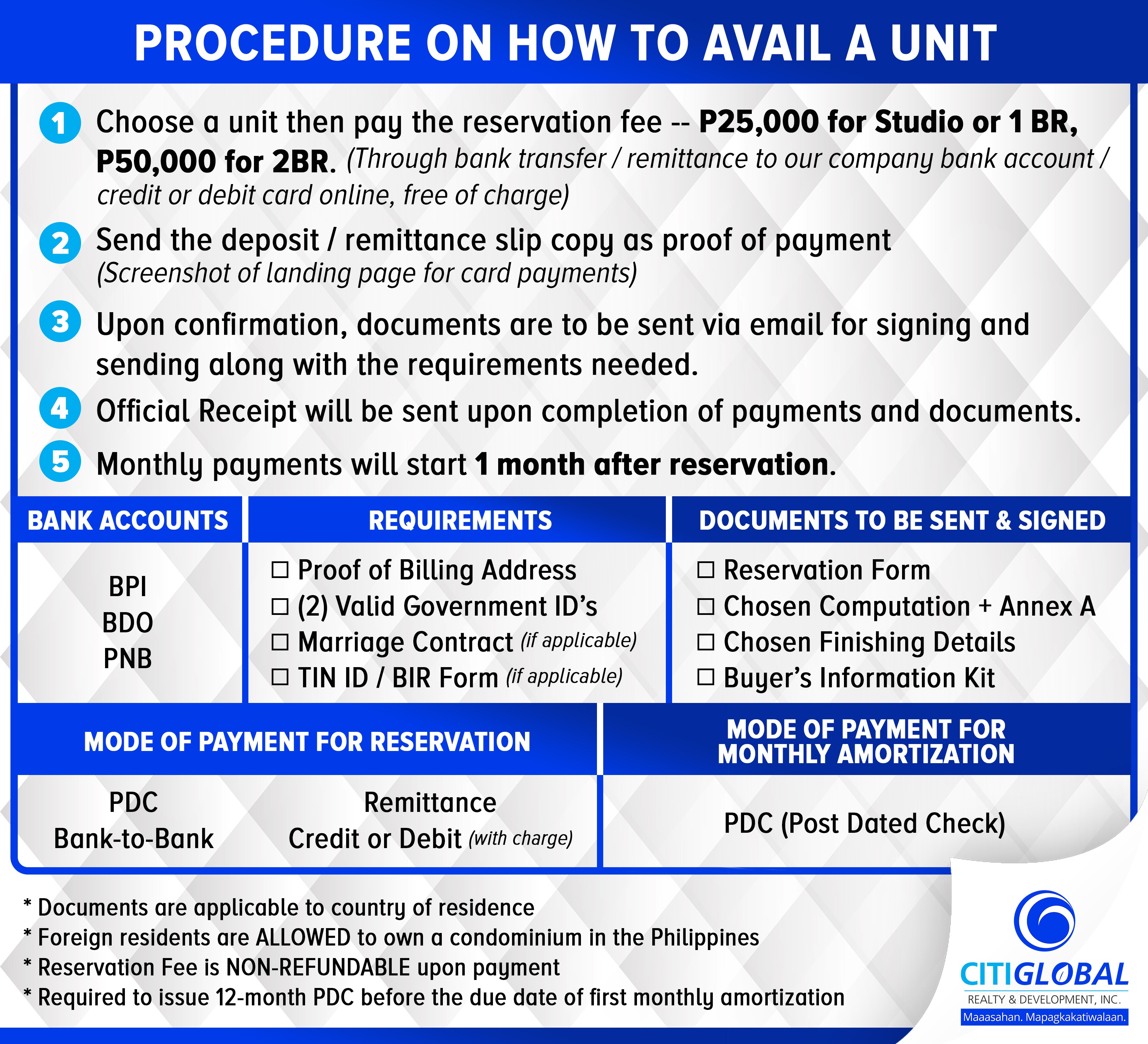 Check these links for more information!
Have any other questions in mind? We'd love to hear from you!